Gathered while Scattered
The Church isn't a building or set of songs, a location or a sermon. The church is nothing if it's not you and me, sons and daughters, belonging to each other because our Father calls us family!
During this time of COVID-19 we're re-learning what is means to belong to a faith community and how to fellowship and gather while we are scattered.
Here's what we're doing.
Sundays
Every Sunday morning we will still worship and celebrate God, but it'll look a little different. Join us at 10:30 AM on Facebook, YouTube, and Here for a fresh word from God. We will use singing and praise worship from previous Sundays while Pastor Bufford delivers new content each week. If you miss the live broadcast, catch the recordings HERE or on YouTube.
Latest Message
Wednesdays
Every Wednesday evening will gather and connect for our Mid-Week Wednesday in the Word service. This interactive service will take place on the Zoom Video Conferencing Platform.
Here is how it works.
Using your phone, iPad, or computer with Zoom will allow us to see each other and connect virtually. Please note that you have the option to turn off your camera/video feed which will only show your name, while your audio is still on (allowing us to still talk and hear each other).
You can download the free zoom app on your phone or iPad (See links below) or you can use your computer by going to https://www.zoom.us/.
Once you have downloaded the app or loaded the program on your computer, use the Zoom Meeting link (below) to access our Meeting on Wednesday nights.
6:45 pm - 7:00 pm: Mix and Mingle
7:00 pm - 8:00 pm : Lesson
Join Zoom Meeting by CLICKING HERE
Meeting ID: 649 526 849
Passcode: 123456
Regular Phone dial:
+1 929 205 6099 US
+1 253 215 8782 US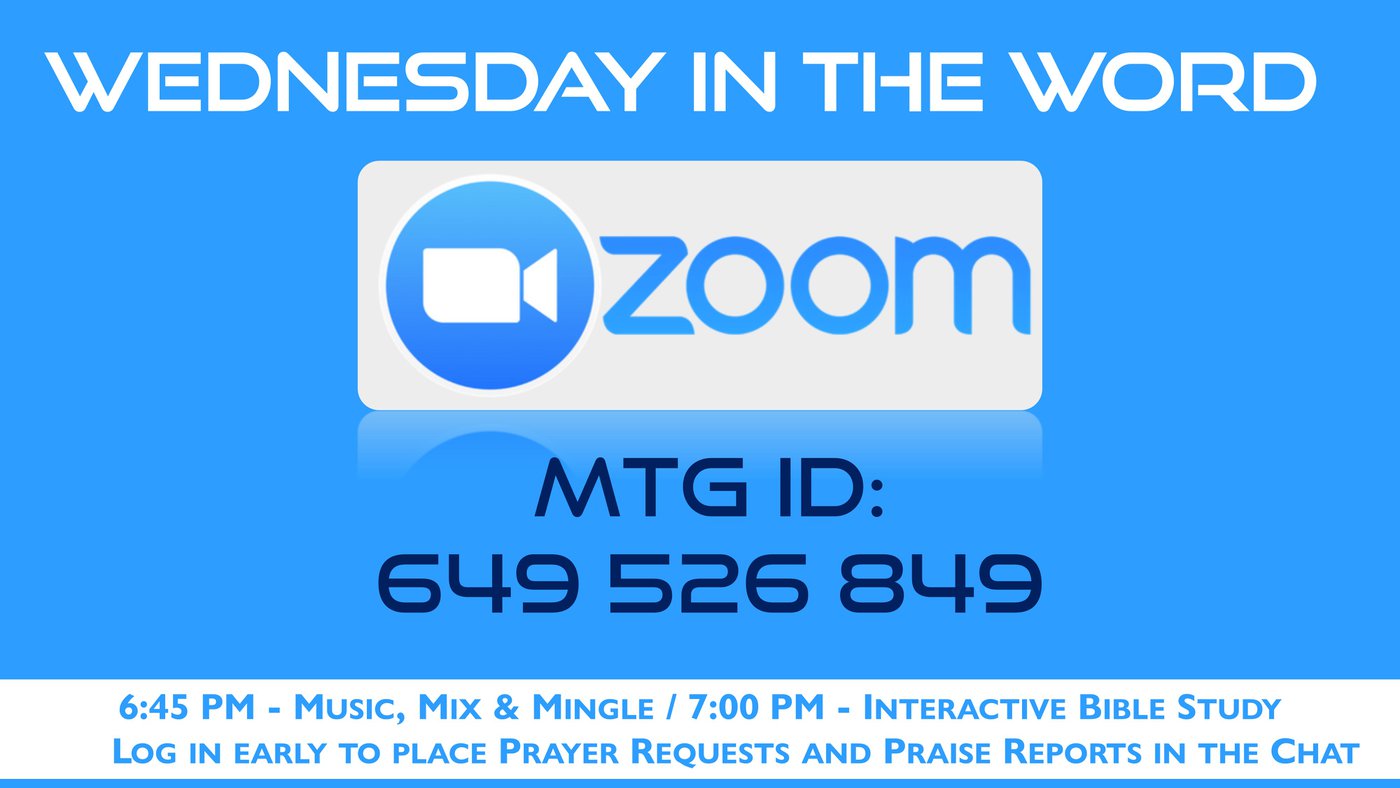 KidZONE
We didn't forget about our youth! Our awesome KidZONE staff will meet interactively with our youth every Sunday at 11:45 AM to 12:30 PM.
We value the virtual safety of our children, therefore, this meeting is Password Protected. To receive meeting password please complete registration by CLICKING HERE.